Who's in it?: Donald Glover (TV's Community), Bobby Moynihan (Saturday Night Live), Aubrey Plaza (TV's Parks and Rec) and D.C. Pierson.
I'm not going to lie to you.  This movie is dumb.  If you see it, it will be one of the dumbest-assed movies you will have seen or may ever see.  And sadly that's the beauty of it.  I'd never heard of it until I watched it.  I only found out about it because I read an article about Donald Glover, who is going to be one of the funniest mother fuckers on the planet very soon.  If you don't watch Community on NBC you should because Glover is brilliant on that show, and also that show is hilarious.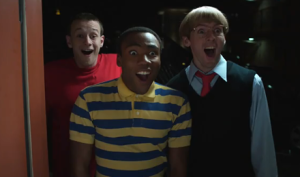 The movie is a very low budget comedy about three friends who are all total dip shits.  When they were little kids they started solving neighborhood crimes.  They called themselves the Mystery Team and everyone loved them.  Then they grew up but they never actually grew-up, ya get it?  So the story kicks off when this little girl hires The Mystery Team to find out who killed her parents and the boys get drawn into an actual mystery.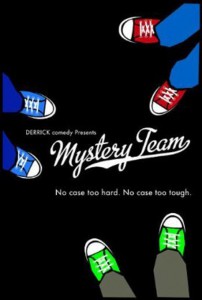 Like I said the Mystery Team is dumb — well naive might be the right world.  It's a coming of age story where these morons have to come to terms with the reality that there is a very adult world out there.
But it adds to the charm of the movie, which is pretty funny in a stupid dead-pan way.  There are several well written funny moments but a lot of it is really pretty stupid.  Some of the acting is pretty awful but really overall its a somewhat clever movie.This flick is so low budget that it looks like these guys grabbed a camera, called some friends who wanted to act (some of whom were also slightly famous) and made the shit up as they went along.