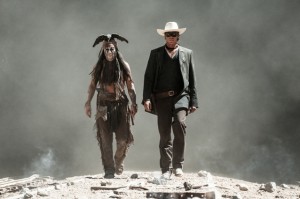 Growing up, I loved the Lone Ranger. I just thought it was cool for a cowboy to wear a mask and run around with an Indian seeking justice. I've always loved westerns, it's really too bad they have dropped off the popularity chart. So, I was pretty pumped when I found out they were doing this new big screen adaption of "The Lone Ranger".
And then they cast Johnny Depp — as Tonto. And then they cast Armie Hammer (no, not the box of baking soda) as John Reid aka the Lone Ranger. Oh boy.
Combine them with director Gore Verbinski (Pirates of the Caribbean) and producerJerry Bruckheimer and you get an absolute mess. Now this movie is sure to get raked over the coals but it's a weird movie in that it isn't as bad as other critics might lead you to believe, but it is also every bit as bad as you've probably heard it is.
Here is where I am conflicted. There is enough going for this movie that make it really entertaining. The problem is, those entertaining moments are way too few and far between long passages where nothing is happening.
Check out my full review of The Lone Ranger at Examiner.com.
Release date: July 3, 2013
Directed by: Gore Verbinski
Written by: Ted Elliot, and Terry Rossio and Justin Haythe
Starring: Johnny Depp, Armie Hammer, Tom Wilkinson, William Fitchner, and Helena Bonhan-Carter
Photo property of Buena Vista Studios