This is the dark side of Disney. The studio, known for its imagination, has a tendency to bleed out its properties, squeezing every they can out of toys, shows, characters, and movies.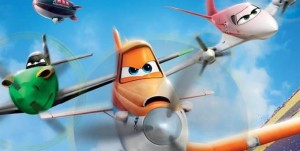 Enter "Planes", which takes place in the "World of Cars". But don't get too excited, this bland and generic animated feature from the great and powerful Walt Disney Studios is lacking every single thing that makes the Pixar movies so brilliant.
Not even keeping Pixar head honcho John Lasseter's name as producer is able to keep this movie from crashing and burning on impact.
Let's start with the characters, which are uninteresting, to say the least. This wouldn't be a problem if the voice actors added any life to them. They don't. Dane Cook — yes, Dane Cook the comedian — provides the voice for the main character, a crop dusting plane appropriately named Dusty, who wants to become the world's greatest racing plane.
Add every single cliché now…
Read my full 'Planes' movie review at Examiner.com
Directed by: Klay Hall
Written by: Jeffrey M. Howard
Voice talents: Dane Cook, Stacy Keach, Brad Garrett, Teri Hatcher, and Julia Louis-Dreyfus
Official website: movies.disney.com/planes
Planes theatrical trailer

Photos and trailers property of Walt Disney Company