I love movies like "Everybody Wants Some". They're fun. They entertain. They don't try too hard to push emotional buttons if it isn't necessary. And when you're done, you feel good, but not burdened to find a deeper meaning.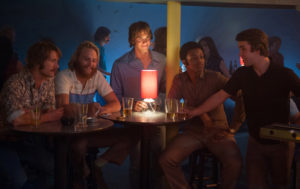 Welcome back, Richard Linklater. We weren't sure if you could get back into that old "Dazed and Confused" vibe after snagging your first Academy Award (Best Director last year for "Boyhood"), but you did and it was so much fun to take a dip into the past with you. This movie is being referred to as a "spiritual sequel" to Dazed. What does that mean? It just means it taps into that laid back, vibe, baby.
"Everybody Wants Some" takes us back to 1980 — not quite the 80's but it ain't the 70's no more, either. We follow a small college baseball team in Texas for a weekend before classes begin. It's all about these guys getting to know each other, drinking beer and chasing women. Some are dealing with the transition from high school to college, while others are making plans for life after baseball.
It's conflict-free, but that's a good thing here. It makes for a nice, enjoyable movie with plenty of laughs, memorable characters and a killer soundtrack.
Full Everybody Wants Some!! movie review
Check out my interview with the stars of Everybody Wants Some, Wyatt Russell, Glen Powell, and Quinton Johnson, who all play fantastic characters in the movie.
Rating: 7/10
Release date: April 15, 2016
Written and directed by: Richard Linklater
Starring: Blake Jenner, Zoey Deutch, Wyatt Russell, Quinton Johnson, and Glen Powell
Running time: 1 hr. 57 mins.
MPAA rating: R for language throughout, sexual content, drug use and some nudity