Every now and then, a movie comes along that makes you say, "WOW."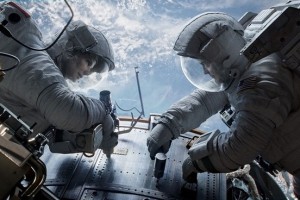 In 2013, that movie — nay — that EXPERIENCE, is Alfonso Cuaron's "Gravity".
Now it's easy to gush on this movie. If you seen the trailers, it is everything those brief intense sequences promises and more. Cuaron, known for "Harry Potter and the Prisoner of Azkaban" and the also amazing, "Children of Men", puts the audience on this space mission with veteran astronaut Matt Kowalski (George Clooney) and his newbie spacewalking partner Dr. Stone (Sandra Bullock).
The results are one of the most intense and visually spectacular movies, not only of this year — but maybe….ever?Normally, I'm not the biggest fan of Sandra Bullock. So, in all fairness I feel it is important to say, that despite my reservations going in, she is actually pretty great in this role. She usually comes of a little cold in most of her movies, and here it suits the character perfectly. She's playing a woman who left Earth, to go on this shuttle mission, feeling she had nothing left to live for.
So, you feel every emotion her character feels as she becomes one of two survivors of this horrific accident — in freaking space, no less — and must fight to survive, all while asking herself if she has anything left to live for.
It's a spectacular movie. A visually stunning movie. A deeply touching and emotional movie.
You see where I'm going with this?
Continue ready my full Gravity review at Examiner.com
Release date: October 4, 2013
Directed by: Alfonso Cuarón
Written by: Alfonso Cuarón and Jonás Cuarón
Starring: Sandra Bullock and George Clooney
Official website: gravitymovie.warnerbros.com
Gravity theatrical trailer:

Photos and video are property of Warner Bros. Pictures