The relationship between a father and his daughter is a special one. When a little girl is growing up, she remembers all the things she learned from her father. You know, things like hunting, combat skills, survival, foreign languages and of course preparing and training to kill CIA operatives. "Hanna", though, is more than just a simple action movie about a little  girl trying to find out who or what she really is.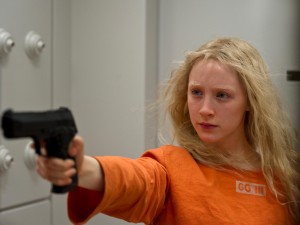 "Hanna", played by Saoirse Ronan ("Atonement"), is a sixteen year-old girl who has grown up in the wilderness with her ex-CIA agent father, played by the under appreciated Eric Bana. He has raised her and trained her with one purpose, to some day track down and kill the woman who killed Hanna's mother. Bana's character, Erik, has taught Hanna the skills he has learned as a spy, including multiple languages and even fleshed out back stories in case she is ever caught.
The villain of this story is another CIA operative, Marissa (Cate Blanchette). She is the one person who knows the secret of Hanna's true conception and purpose because there is in fact more to this bad ass little girl than meets the eye. One day, Hanna triggers a tracking device, which is sure to lead the CIA to them and they come in force, capturing Hanna, but not before she takes a few of them out. Hoping to be led right to Marissa. Hanna is taken hostage.
The film is directed by Joe Wright ("Atonement", "Pride and Prejudice") and he brings his amazing visual and musical stylistic pacing to "Hanna". The film is slowly paced but there is a constant musical beat that almost adds more character to what is a bleak film. There is  some breathtaking cinematography at work here as Hanna goes from the frozen wilderness, to the desert and across Europe to find her father and kill her mother's killer.
"Hanna" is a beautiful film, although slowly paced and Saoirse Ronan is phenomenal as the child assassin. What unfolds is beautiful, sad and at the same time thrilling as young Hanna uncovers the truth of her life and conception. There are several plot twists that are fun to discover if you can get past the middle act, which does get a little boring.
Check out some of my other movie reviews at Examiner.com.
Follow me at:
Hanna theatrical trailer: