The reason we likes movies like "Rocky" is because they make us feel good. But, yeah. There's definitely a formula to these. But like making cookies, it's easy to do it right, but just as easy to screw it up.
"Eddie the Eagle" nails that formula and it makes for a tasty little, mindless treat about real-life British downhill skier, Eddie Edwards.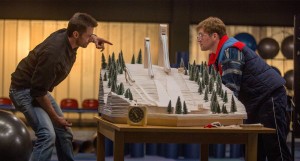 Is it good? Does it matter? It's fun to watch. It has all the feel-good moments, and the cast is great.
Hugh Jackman is always good. No question the dude has talent, but it's nice to see him playing a lighter role. Jackman plays an alcoholic former American Olympian who trains Eddie. But it's Taron Egerton who steals the show.
I thought he was great in "Kingsmen", and his director on that one (who served as producer here) thinks he should play young Han Solo — but Egerton has some fun range. It should be fun to see where his career goes from here.
Either way, enjoy this one.
Full EDDIE THE EAGLE movie review at Examiner.com
Release date: February 26, 2016
Directed by: Dexter Fletcher
Written by: Sean Macaulay and Simon Kelton
Starring: Taron Egerton, Hugh Jackman, Jim Broadbent, and Christopher Walken
Running time: 1 hour 45 mins
MPAA rating: Rated PG-13 for some suggestive material, partial nudity and smoking