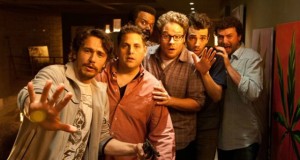 This summer, there have been a lot of movies with an overly serious attitude. Even the new Superman movie got the gritty and realistic treatment for its reboot.
Thank the maker there are still filmmakers that still smoke a bunch of weed and make movies for people who also like to smoke a bunch of weed. Seth Rogan and Evan Goldberg, who penned "Superbad" are back as writers and directors for this end of the world romp in which Rogan, along with his buddies, including James Franco, are trying to survive the apocalypse.
For the most part, it's one of the funniest movies to come out in a long time, despite the fact there are long gaps where it feels like it's going nowhere.
Continue reading: This is the End review at Examiner.com
Photo property of Columbia Pictures