Star Wars: Rogue One teaser trailer
A long time ago, in a galaxy far, far away….we all kind of assumed the "Star Wars" saga ended with 2005's "Revenge of the Sith", the third prequel from George Lucas, detailing the fall to the dark side by Anakin Skywalker. Based on the quality of that flick, most fans thought it was for the best.
Then Marvel struck financial gold by developing a cinematic universe with individual stories seamlessly interweaving throughout larger stories. Then Disney bought Lucasfilm and locked George Lucas out, promising to produce movies for "the fans".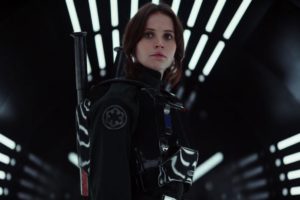 Last December, we got "The Force Awakens", Episode VII in a new trilogy following the Skywalker family and their battle against the evil Sith and the dark side of the force. But that is only the beginning. Disney is not only planning a new trilogy (Episode VIII in 2017, Episode IX in 2019), but they are expanding into telling individual, isolated stories — i.e. non-Skywalker tales.
These solo movies are being called, for lack of a more creative term: "A Star Wars story…".
First up is "Rogue One" directed by Gareth Edwards ("Godzilla"). Set just prior to the events of "A New Hope", the first non-trilogy movie will take us back to show us the the daring and dangerous mission that went into securing the Death Star plans for the Rebel Alliance.
The tone for the trailer is a much darker tone that we've seen in the saga, indicating we are getting something closer to a full blown military war movie than the simple sci-fi fairy tales we've seen in the past. But don't fret, Lord Vader is expected to make an appearance.
"Rogue One" will hit theatres on December 16th, 2016 and stars Felicity Jones, Mads Mikkelsen, Ben Mendelsohn, Alan Tudyk, Forest Whitaker, and Donnie Yen.
Rogue One, A Star Wars Story — Property of Disney and Lucasfilm