Ryan Reynolds has earned a special place in the hearts of comic book fans. He is proof that some people in Hollywood do actually care about the source material of the movies they are making.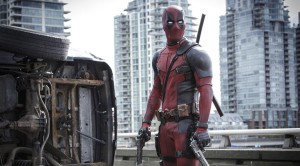 Let's face it. Just about every movie made these days is based on something. But, for Ryan Reynolds, "Deadpool" wasn't just another super hero, he was a character he felt deserved a proper treatment on the big screen.
Deadpool is vulgar. Deadpool is violent. Deadpool talks to the audience, says fuck, and has the attention span of a perverted 16 y.o. with no self control filter.
"Deadpool" is also an awesome freaking movie. Can the success be duplicated or is this just lightning in a bottle? We'll see. For now…
Full Deadpool movie review at Examiner.com
Release date: February 12, 2016
Directed by: Tim Miller
Written by: Rhett Reese and Paul Wernick
Starring: Ryan Reynolds, Morena Baccarin, Ed Skrein, Gina Carano, Brianna Hildebrand, and T.J. Miller
Running time: 108 minutes
MPAA rating: R for strong violence and language throughout, sexual content and graphic nudity