As Disney continues to adapt every single one of their animated classics into big budget, live action adventures, they're going to be hit and miss. "Cinderella" was ok. "Maleficent" was meh. "Sorcerer's Apprentice" had it's moments but was mostly a misstep.
"The Jungle Book", the tale of the orphan Mowgli, and his adventures in the jungle with Bagheera and Balooo, his battles with Kaa and Shere Kahn, is just kind of one big WTF.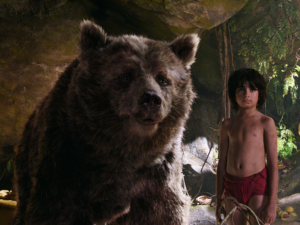 There's really no other way of putting it.
Everyone is raving about the way it looks. I'm going to have to take their word for it. Yeah, I saw it…but I saw it in 3D. Unless they saw a cleaner version than I did…the 3D does more harm than good here, which seems to be par for the course for Disney's live action.
That being said, the artistic design of the film is amazing. It is entirely CGi, meaning the only thing that is real is little Mowgli. The jungle looks amazing and the animal designs are pretty sweet. It's just the damn 3D makes it too dark and blurry to really enjoy it.
Is it for kids? That seems to be the debate. The movie establishes a pretty dark mood early on and struggles in the second act when characters like Baloo (Bill Murray) and King Louie (Christopher Walken)  are introduced. It gets kinda funny, then weird, then scary again. It's kind of all over the place, not really sure if it wants to scare you or make you laugh.
Full The Jungle Book movie review
Rating: 6/10
Release date: April 15, 2016
Directed by: Jon Favreau
Written by: Justin Marks
Starring: Neel Sethi, Ben Kingsley, Idris Elba, Lupita Nyong'o, Scarlett Johansson, and Bill Murray
MPAA rating: Rated PG for some sequences of scary action and peril
Running time: 1 hour 45 mins.