I've always loved westerns. There aren't nearly enough of them made these days in a world of superhero movies, and sequels and remakes —
Speaking of remakes, the trailer for the "Magnificent Seven" remake has hit today and it looks pretty damn good.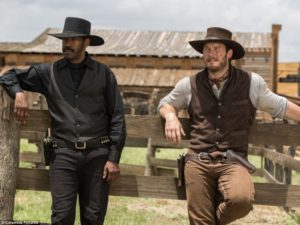 Directed by Antoine Fuqua, the film stars Denzel Washington, Chris Pratt, Haley Bennett, Vincent D'Onofrio, Ethan Hawke, Matt Bomer, Byung-hun Lee, and Peter Sarsgaard.
It's a remake of the 1960 classic starring  Yul Brynner, Steve McQueen, and Charles Bronson — which itself is a remake of the Akira Kurosawa's epic "Seven Samurai" (1954).
Release date: September 23, 2016
Official synopsis: With the town of Rose Creek under the deadly control of industrialist Bartholomew Bogue (Sarsgaard), the desperate townspeople employ protection from seven outlaws, bounty hunters, gamblers and hired guns – Sam Chisolm (Washington), Josh Farraday (Pratt), Goodnight Robicheaux (Hawke), Jack Horne (D'Onofrio), Billy Rocks (Hun Lee), Vasquez (Manuel Garcia-Rulfo), and Red Harvest (Martin Sensmeier).
As they prepare the town for the violent showdown that they know is coming, these seven mercenaries find themselves fighting for more than money.
Magnificent Seven teaser trailer — Property of Sony Pictures